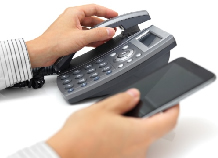 BT have said that they are switching off their popular ISDN digital telephone network by the middle of the next decade. This service is used by hundreds of thousands of businesses from smaller SME's to large multi national companies.
But what does that mean for the organisations that depend on the 3.2 million ISDN channels still being used in the UK?
We believe it means new opportunities, higher quality services, and less money wasted on legacy platforms that offer limited functionality – businesses have already started to migrate to IP based services and the replacement to both ISDN 2 and ISDN 30 digital lines are SIP lines.
SIP lines are the latest form of technology that deliver telephone lines (SIP) using an externally managed data connection for the purpose of making and receiving calls. This virtual IP based service uses network data connectivity such as managed ADSL, FTTC or leased lines (Ethernet) instead of dedicated fixed line technology methods. SIP lines are very reliable, offer excellent quality and are more cost effective than traditional ISDN lines.
With SIP lines it's quicker and easier to provision new lines, port numbers, and ensure the highest call quality. Businesses can scale their usage up and down, relocate to a different office and reduce the costs associated with existing legacy networks.
By 2025, every business will get the advantage of IP-based telephony as BT will leave them no choice.
At Penstone Communications we have already started to provide the new SIP lines to many businesses. If you need more help or just want to discuss SIP trunking please contact us on 0800 074 4414 (and you will be talking to us on our SIP lines) …