Telephone Headsets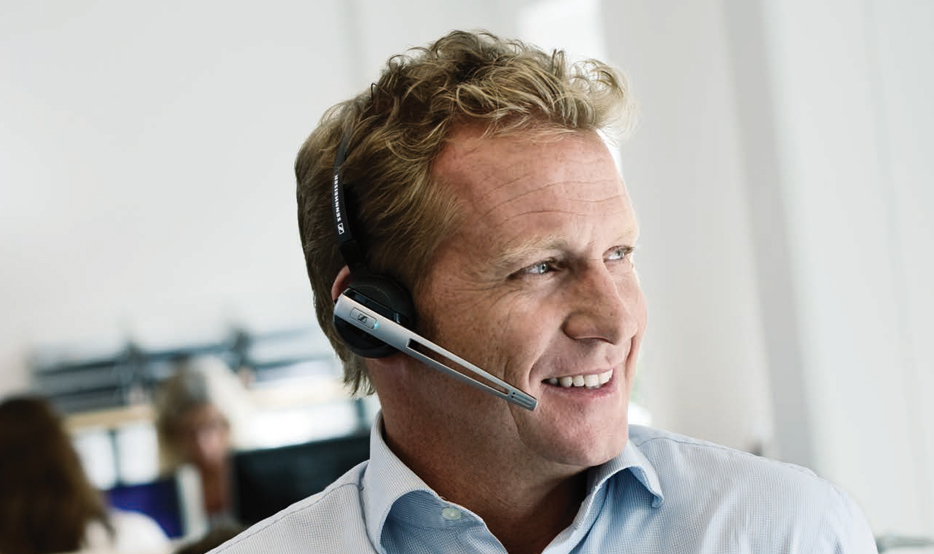 DW Office Phone
Enjoy your calls in HD voice clarity and get natural high-defi nition sound for superior voice clarity. Work safely ensured that the Active-Gard™ technology will protect your hearing.
Imagine making every call in comfort, and being able to focus on what's important: the CONVERSATION.
Benefits and Features:
Dedicated to work with your desk phones
Iconic design – crafted for best comfort
Sennheiser hD voice clarity – wideband sound for natural listening experiences high comfort wearing styles – choose between ear hook and headband wearing style noise-canceling microphone filters out unwanted background noise
Pairing for desk sharing and phone conferences – intuitive and easy to set up
Microphone mute and volume up and down – intuitive user interface
Full workday talk time – 8 hours in wideband sound mode and 12 hours in narrowband sound mode
Re-charge 50% of your battery in 20 minutes – intelligent fast charging
Long distance wireless range – in typical office building: up to 55 m and in line of sight: up to 180m
ActiveGard™ technology – protects your hearing against acoustic shock
SC 230
SC 230 is a single-sided headset designed for professionals that require HD voice clarity audio in contact center and office workplaces. With the focus on contact-centre-tested durability and robustness, SC 230 offers features including: CircleFlex® patent-pending dual-hinge ear cup for instant perfect fit and supreme comfort, noise-cancelling microphone and a lightweight raised profile headband with numbered grooves.
The combination of productivity-enhancing features and contact-centre-tested durability is designed to help professionals perform at their best, whatever the environment.
Benefits and Features
Best-in-class comfort – CircleFlex® patent-pending dual-hinge ear cup system that adapts seamlessly to your ears, for instant perfect fit and relaxed all-day wearing
Noise-canceling microphone – filters out ambient noise for optimum speech clarity
Unique robust construction – crafted with look and feel in mind • Single-sided wearing style – numbered headband grooves for step-by-step adjustment for instant perfect fit
Durability – metal reinforced headband designed for years of wearing pleasure
Sennheiser HD voice clarity – wideband sound for a natural listening experience
Bendable boom arm – ensures microphone position is always optimal. Cannot be twisted out of position
Pivotable boom – rotates through 350 degrees for wearing flexibility on right or left ear and precision microphone placement
Name tag personalization – easy user ID helps to avoid wearing a neighbor's headset
ActiveGard™ – technology protects you from acoustic shock and sudden sound surges
Peace of mind – 2-year international warranty
More in Communication Systems
Client Testimonials
Latest News
Contact Us
A specialised technical team with you every step of the way.
Penstone Communications' technical team will work with you to achieve the best solutions for you and your budget!
Contact Us